Description
Voigtlander Super Wide- Heliar 15mm f/4.5 Aspherical
Version III - Leica M Mount


This is the new Version III released in March 2015 to improve color rendition M9 / M240 / M10 and full frame Sony A7 series.


Check out the Voigtlander 15mm f/4.5 Image Discussion HERE
"The Voigtlander 15 f/4.5 III – Great on the Leica M 240 and Sony A7 series!
The new V3 can now be used on a Leica M without ANY color issues whatsoever."
-Steve Huff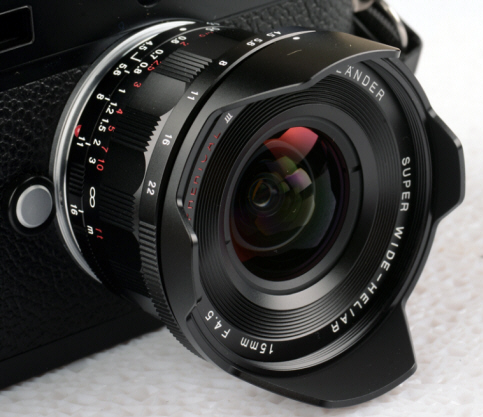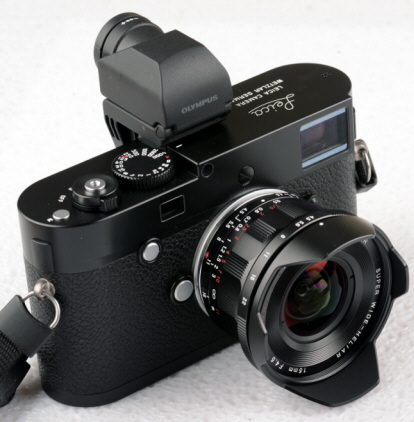 Closeup of the new Voigtlander 15mm f/4.5 VIII, also mounted on the Leica M-P with Olympus Visoflex
Imagine: A sharp 15mm M lens for less than the price of a used car!
MFR BA213M
New Version III introduced March 2015 to correct color fringing on digital bodies
11 elements in 9 groups - one Aspherical elements
15mm f/4.5 M Mount Lens f/4.5 to f/22, half click aperture stops
10 Aperture Blades
Built in lens hood
Closest RF Focus .7 meter, scale or live view focusing to .5 meter
Filter Size: 58mm - easy to mount filters
Size: 55.2 length x 64.8mm diameter
Weight 247 grams
Use Voigtlander VM to NEX Close UP adapter for Sony A7 bodies
Brings up 28/90 frameline on Leica bodies. Use Voigtlander 15mm viewfinder,
Voigtlander 15-35 Zoomfinder, or live view Visoflex finder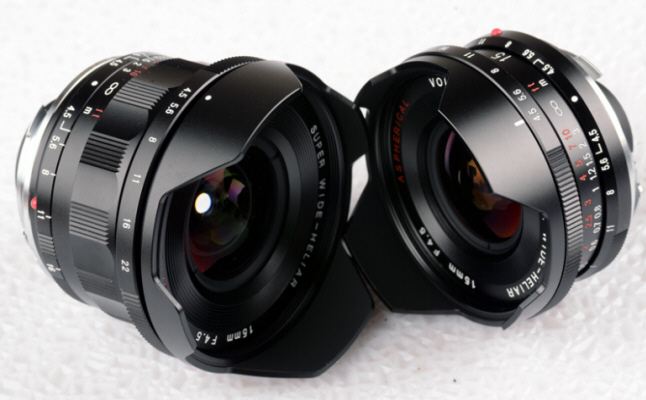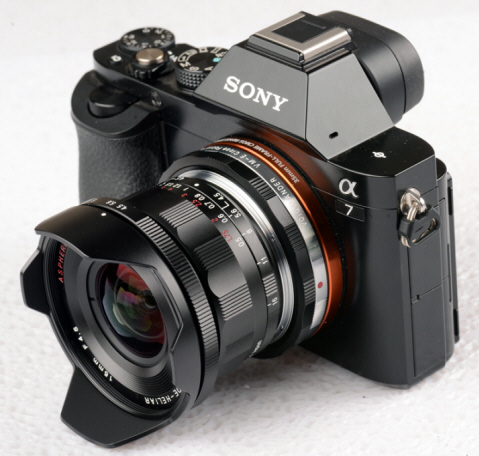 Voigtlander 15mm f/4.5 VIII on left side, VII on right side, 15mm f/4.5 VIII mounted on Sony A7 with Voigtlander Close UP VM to NEX adapter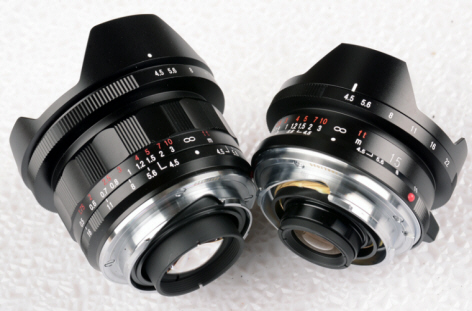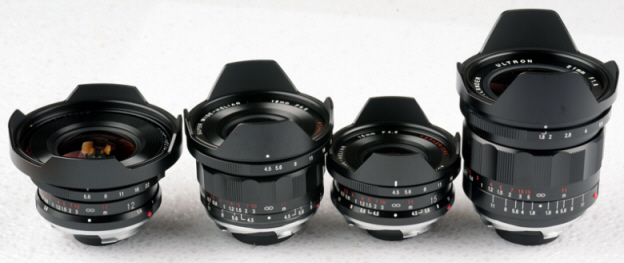 Voigtlander 15mm f/4.5 VIII on left side, VII on right side, lineup of Voigtlander 12/5.6, Voigtlander15mm f/4.5 VIII, Voigtlander15mm f/4.5 VII, Voigtlander21/1.8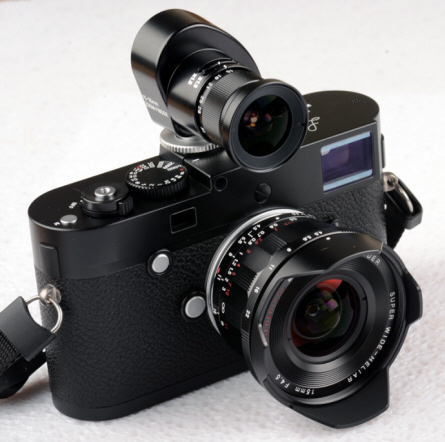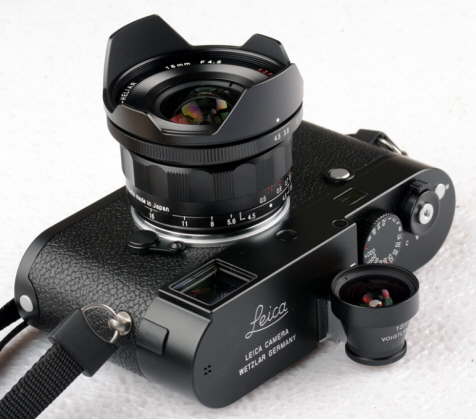 Voigtlander 15mm f/4.5 VIII on the Leica M-P, with Voigtlander 15-35 Zoomfinder on left, with Voigtlander 15mm viewfinder on right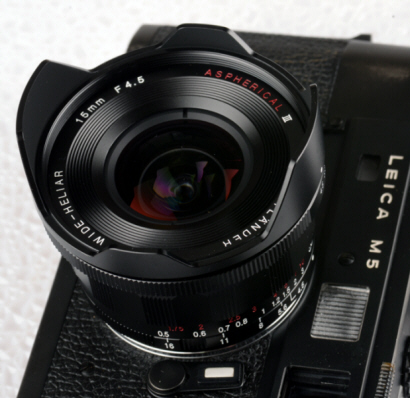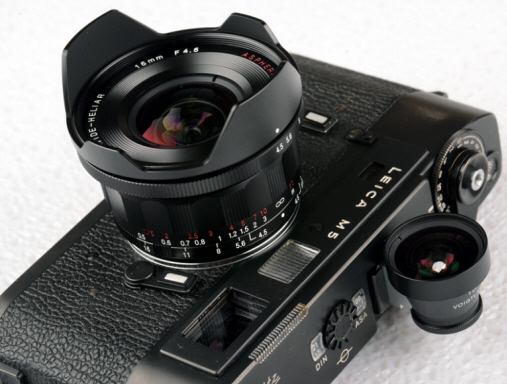 Voigtlander 15mm f/4.5 VIII works on all M mount film cameras too! Here shown on the Leica M
Product Reviews
Login
or
Register
to write a review.
Reviewed by MelSnyder
MelSnyder bought "Voigtlander 15mm f/4.5 version III Leica M" on our website

04/19/2015 - 05:20:18 PM
Nothing short of spectacular on Sony A7
The Sony FE 35mm f2.8 spoiled me - tiny, light and sharp - and so, when the reviews of the 16-35mm zoom proved pretty meh, I began looking around for a FE-35mm equivalent in a superwide prime.

This is it.

Wide open, this is virtually perfect across the frame into the corners. Stopped down to f5.6, it is nearly perfect. You need to shoot architectural subjects very level to avoid tilt, or correct them in post - but that's true of every lens of this type.

I mistakenly believed this lens had significant vignetting because I shot my test shots with sky in them. It wasn't a big deal, because it was easily corrected in Lightroom. But then I began shooting interiors with it - and there was nearly NO vignetting! Then I remembered some shots with my old 16mm/UWA combo on my NEX-6: superwide lenses in "severe clear" (pilot term) settings tend to make a kind of polarization effect in the corners of lenses. That's what one can expect with this lens. Otherwise, there appears to be very little vignetting with this lens.

There is distortion of a type that will suggest you keep people's bodies - especially heads - out of the corners and off the extreme edges of this lens...but again, a characteristic of these lenses.

A final observation. This well may be the sharpest lens you can buy even close to this price for the Sony A7 series. I have seen the results with the FE 55mm f1.8 and this fully competes with it. The potential for huge sectional blowups of ISO 100 images is really there - so in many cases, you can keep this lens on your camera when you might otherwise switch to a different focal length.

Here is a link to a Flickr album test of the lens: https://www.flickr.com/photos/melsnyder/sets/72157651477410621/, and another in my photo stream https://www.flickr.com/photos/melsnyder/16766795987/


I have tried this on my NEX-6, and while it of course provides about a 23mm equivalent on that camera, and other crop sensors like the A6000, the quality of image is surely there.

Conclusion: Thank your, Henry, for recommending this lens to me. It's a great' valued addition to my bag.
Reviewed by rclompus
04/10/2015 - 08:04:16 AM
Version 3 is a winner
I have owned all three versions of the Voigtlander 15mm lens. Starting with the tiny screw mount Version 1, moving to the focus coupled M mount Version 2 and today with Version 3. The newest version is a bit larger than Version 2 but is still a very compact lens on an M Leica. The focusing tab has been replaced with a wider scalloped focusing ring that turns smoothly and is well dampened. The front of the lens is protected with a built-in metal scalloped lens hood that accepts 58mm filters vs. the previous 52mm filters. The very effective multi-layer anti-reflective coating has a similar appearance as used in earlier versions. The lens aperture ring rotates more smoothly with firmer detents that produces a quality feel that is better than some Leica lenses. Setting the aperture to f8 will produce images in focus from infinity to a half meter away. The optional small round metal 15mm optical viewfinder from Voigtlander yields clear views for glasses wearers and is a nice alternative to the Leica M live view or the attachable EVF. So mechanically, its a more robust and mature lens design that its predecessors.

So how does the lens perform optically? Phenomenally well. Images are quite sharp without the peripheral magenta color cast seen with Ver 2. Super wide angle rectilinear lenses create oblique light rays that don't play well with digital sensors. The new optical design has made tremendous improvements in accurate color reproduction and a reduction in vignetting. For those that previously used Cornerfix software to reduce the magenta corners or felt restricted to creating only black & white images with Ver 2, you can now shoot color to your heart's content. Photographing with a compact 15mm lens on a full frame camera is a wonderful experience. Frame your subject well and the image will invite the viewer to walk right into the photograph. For Voigtlander, Ver 3 is a winner. The optics have improved significantly, the mechanical design has been refined and it's still moderately priced for the rest of us to enjoy. I look forward to using this lens and growing as a photographer with its imaging abilities. Happy Shooting, Richard Clompus, Trinidad, CA