Description
Rayqual Leica R mount to Canon EOS Camera Body Lens Adapter


On most bodies this means you will be able to get manual exposure, aperture priority exposure, TTL flash. Mount your R lenses on a digital EOS for digital SLR capability!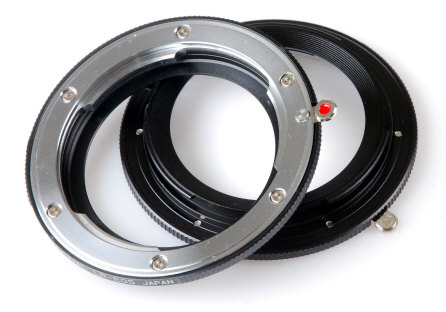 Optional AF with your Leica system? Not a problem, mount a Canon lens. Try that with your R8 !!!

10 fps with your Leica R lenses? Not a problem with the Canon EOS 1n RS.

Real motor drives built into the camera with R lenses? Gee, pick an EOS, almost any EOS.

Wireless Multi TTL Flash with R lenses? Haven't tried it yet, but I think its possible with your EOS and this adapter.

Compact light weight low cost R body with built in flash for R lenses? You only have about 200
Canon Rebel models to choose from.

Sophisticated rugged pro camera with R lenses? The EOS 1 V or digital Mark II DS fit the bill.

Digital SLR? The Canon EOS digital bodies are popular with manual Leica R glass.

It will probably be easier to mount the adapter on your lens first, and then mount on the camera.

Exposure Compensation: For most EOS bodies, set the finder F/stop display to 1.0 or 0.0 for stop down metering. Test the exposure compensation necessary for that camera/lens combination.

IF you are using the large heavy Leica tele lenses which have both R and Visoflex mounts, it is probably wiser to use the

Visoflex to EOS

adapter as it is larger and likely stronger than the R to EOS adapter..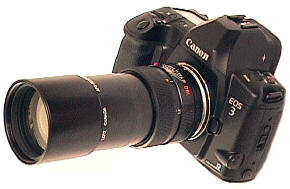 Leica R 180/3.4 APO mounted on Canon EOS 3.
R Lenses Which will NOT work: Strangely enough not all Leica R lenses protrude in identical ways into camera bodies. The following Leica R lenses are reported to have mirror clearance issues with most if not all adapted EOS cameras: 15/3.5, 16/2.8, 19/2.8 Second Version, 21/4 Mirror Lock Up Version, 35/1.4, 35-70/2.8, 80-200/4.5 First Version. The 24/2.8 and 28-70/3.5-4.5 (2nd version) will not work on the EOS 5D because the rear element protective guard hits the mirror. The 21-35/3.5 Aspherical and 28-90/2.8-4.5 Aspherical is reported not to work on the 1Ds Mk II. Keep in mind there are minor design changes during a lens' lifetime (most of which are not reported by manufacturers), and so the changes are unknown to the public. The first time you mount any adapted lens to any adapted camera, it only makes prudent sense to carefully check mirror clearance. The Canon 5D has a larger than normal EOS mirror, so take extra care mounting lenses. This list is not represented as complete. If you find other Leica R mount lenses which will not mount safely on the EOS adapters, let me know and I will add to this list.
.