Description
Voigtlander A Zoom Finder for Cart Info - NOT ON MAIN SITE
Voigtlander Type A 15mm to 35mm Zoom Finder
for full frame rangefinders, 1.3x crop Leica M8/8.2 and 1.5x crop for Epson RD-1 Rangefinders and APS-C cameras with 1.5x crop factor
(Choose Type B Zoom Finder for full frame rangefinders, 1.3x crop for Leica M8/8.2 and 2x crop for Micro Four Thirds)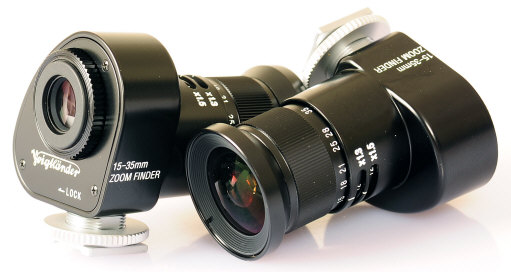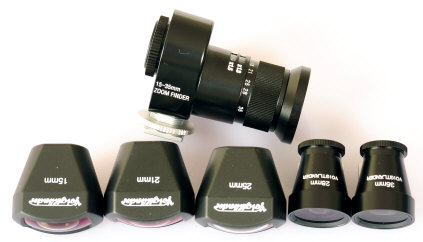 The Zoom Finder's eyepiece has built in diopter adjustment. The foot has a locking ring to lock the finder in place upon your camera.
SIX for ONE! The 15-35 Zoom Finder has the same function as five separate finders: 15, 18, 21, 25, 28, and 35.
Alas, these unique finders are discontinued. Only a few remain. Get them while you still can!
"Stephen,

Just received my zoom Voigtlander finder.  WOW understated excellence. 
This thing smokes the plastic 21mm Leica finder I own.  Makes that 
expensive item look like a piece of junk.  Yikes, I had no idea it 
could be that good. 

The clarity of the image is excellent. Construction appears top notch.
Cheers
Tom Ridout"  

www.industryous.com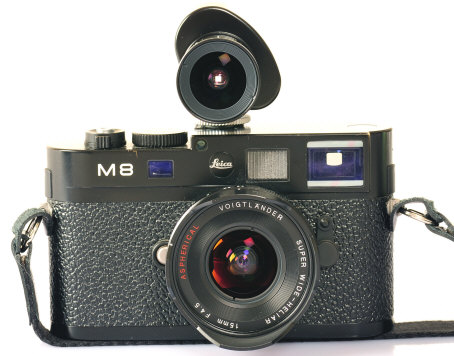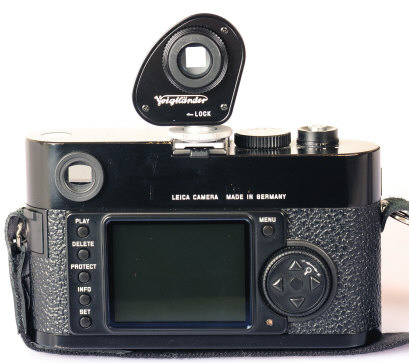 The ONLY 15 to 35mm Zoom Finder EVER made by any lens maker! The Voigtlander 15-35 Zoom Finder mounted on digital Leica M8.2 body with Voigtlander 15/4.5 Super Wide lens.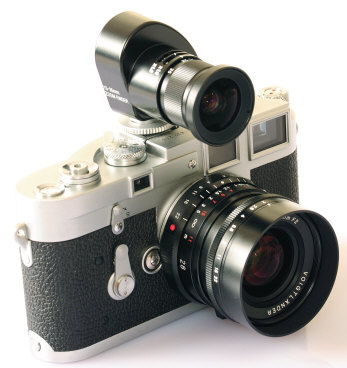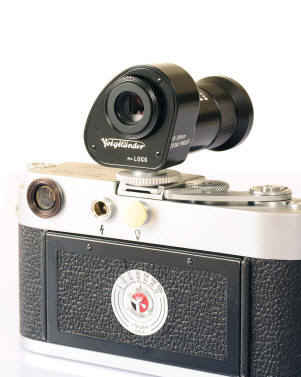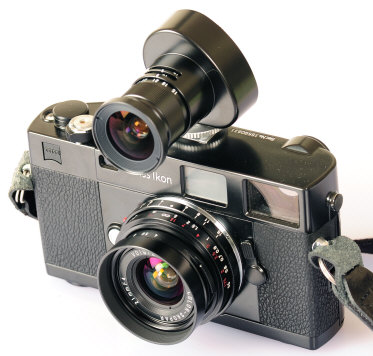 Zoom Finder mounted on Leica M3 and Zeiss Ikon ZM
---
Hmm. How well will this Zoom finder work with the many many many fixed lens point-n-shoots??
A finder for All Seasons, eh ALL Reasons, eh....ALL CAMERAS? Hot Damn!
Imagine: ONE viewfinder that can be used to 15mm to 35mm wide angle lenses for 35mm rangefinder full frame cameras! Thank You Mr. Kobayashi!

This is about as UNIVERSAL as it gets in wide angle viewfinders! Covering an ultra wide zoom range of 15 to 35mm, the amazing Voigtlander 15-35 Zoom Finder viewfinder can be used with virtually ALL interchangeable 35mm full frame rangefinder cameras (digital or film) by ALL manufacturers, as well as the Leica M8, M8.2, Epson RD1 series, as well as an amazing number of point and shoot cameras (film and digital). WOW! NEVER before in the almost 100 year old history of 35mm rangefinder cameras has a 15 to 35 viewfinder been produced by any camera manufacturer, much less multi format for 3 different camera families! Ladies and Gentlemen, WE HAVE A WINNER! The hottest thing since sliced bread!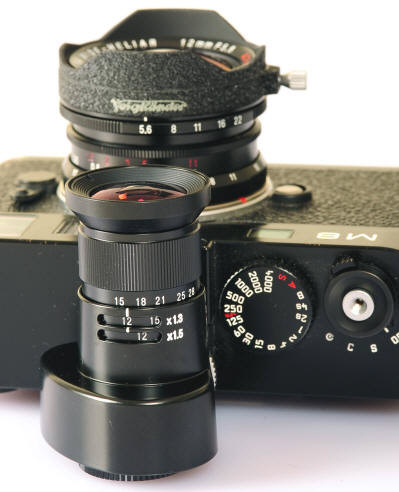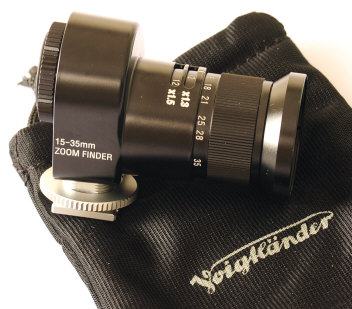 The Voigtlander 15-35 Zoom Finder is shown above mounted on digital Leica M8.2 body with Voigtlander Ultra Wide 12/5.6 lens. Notice that due to the smaller than full frame digital format, the Zoom Finder can be used with the 12mm lens on the M8.2 (1.3x scale) and Epson RD1 (1.5x scale). Simply turn the finder's barrel to select the lens you are using. The Zoom Finder is delivered with its own Voigtlander pouch, which of course can be used for other Voigtlander finders.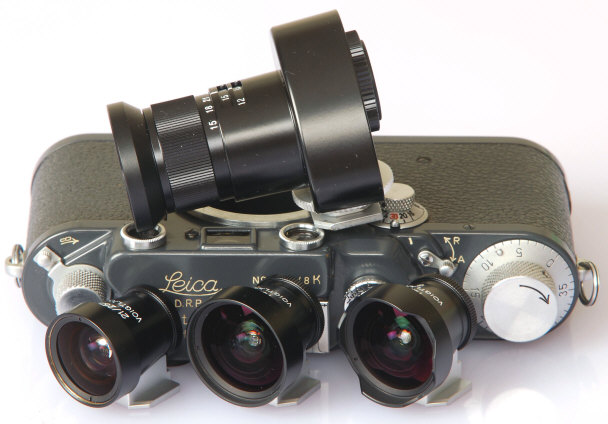 Voigtlander 15-35 Zoom Finder with the new metal Voigtlander 21/25, 15, and 12 Brightline Viewfinders
DIFFERENT CROP FACTORS MEAN DIFFERENT LENS / VIEWFINDER COMBINATIONS!

For decades most rangefinder viewfinders were only made for 35mm format. So you simply used a viewfinder that matched up to your lens: a 35mm viewfinder with a 35mm lens. Recently smaller then 35mm full frame digital formats were invented: 1.3x for the Leica M8/8.2, 1.5x for the Epson RD1, and 2x for Micro 4/3 cameras.

The lens focal length does not change. But the Field of View or Crop Factor for that same lens used on different formats does change. A 28mm has the field of view of 28 x 1.3x of a 36mm lens on a Leica M8/8.2, 28 x 1.5 = 42mm on a Epson RD1, and 28 x 2x = 56mm on a Micro 4/3 camera. So that same 28mm lens will need a 35mm viewfinder on the Leica M8/8.2, a 40mm viewfinder on the Epson RD1, and a 50mm viewfinder (the closest standard VF made to 56mm) for a Micro 4/3 camera. Confusing? Perhaps, but keep at it and it will make sense.

Type A Zoom Finder covers 15-35 lenses 35mm full frame format rangefinders, film or digital, the Leica M10 series, M240 series, M9 series, all the M film cameras

plus Leica M8 / M8.2 1.3x format for 12mm to 25mm lenses (marked values)

plus Epson RD1 1.5x format 12mm to 21mm lenses (marked values)

Sony NEX cameras and Ricoh GXR M are also covered, as they have the same 1.5x crop factor as the RD-1!

Type A Zoom Finder covers 15-35 lenses 35mm full frame format rangefinders, film or digital, the Leica M10 series, M240 series, M9 series, all the M film cameras

plus Leica M8 /M8.2 1.3x format for 12mm to 25mm lenses (marked values)

plus Micro 4/3 cameras 2x format for 7.5mm to 17.5mm lenses (marked values)

Voigtlander 15mm to 35mm Zoom Finder Specs
Click stops at 15mm, 18mm, 21mm, 25mm, 28mm, 35mm full frame lens sizes

Adjustable between click sizes, for example between 16mm and 18mm

8 elements in 7 groups, 3 prisms

Eyepiece Diopter continuously adjustable from +1.3 to -2.8

Parallax lines at top of image show cut off at 1 meter - full image for infinity viewing

Eye Relief: 15mm from eyepiece

Image magnification -- zooming .22x to .47x life size

Size: 42.5x49.5x65.4mm

Weight 98 grains

Small carrying pouch included with viewfinder

Roughly half the size of the Leica 16-28 Universal Wide Angle Finder

Turn locking ring to lock viewfinder into camera's accessory shoe

Image ratio Horizontal to Vertical 3:2

How to tell difference between Type A & B? Type A has 1.5x setting, Type B has 2x setting

RANGEFINDER NEWBIES: Focus the lens using the camera's rangefinder, then switch your eye to the viewfinder to compose your shot. Its reason for being is to provide a viewfinder for wide angles -- wider than what your camera's own built in viewfinder provides. Of course the widest built in viewfinder coverage varies from camera to camera model.

Type B Zoom Finder adjusted for the Voigtlander 15mm lens mounted on the Olympus EP1

Tom Abrahamson's Take on the Voigtlander 15-35 Zoom Finder

I am just back from Japan and I had a chance to play with the 15-35 finder. As with all CV finders, it is incredible bright - virtually no light loss looking through it! It is a zoom finder so you don't have the "surround" of a frame line finder. It zooms in to the focal length and shows the image against a black background instead.
It has three different scales on it. The primary one, a chrome ring" shows the focal length for 24x36mm, the second scale (cut out and white numbers against a black back ground) shows a 1,3 size (M8) and the third scale shows the 1.5 magnification of a RD -1. Sound cluttered but actually worked nicely.
Some distortion at extreme wide setting (15/18 mm) but not worse than on a dedicated finder. The foot has a screw down lock on it so that it is held down securely. Not small, but better than the Leica AM/FM radio looking thing. Oh, almost forgot - it has a built in diopter adjustment on the eyepiece too!
Before you all ask - No, I don't know the price - but even so I want one! It would make my Bessa T's very useful too.
I also had the opportunity to use the coupled 15f4.5 Heliar. Very nice package - M-mount and high build quality. Feels rock solid and a 52mm filter size justifies a miss-spent youth with Nikon F's and the lenses for that. I have a lot of those 52mm filters to put to use once the M-mount 15f4.5 makes its way to me.
The smaller format Leica M8/8.2 as well as the Epson RD1 can use the Voigtlander 15-35 Zoom Finder with 12mm or 15mm lenses!
Epson RD1 digital M mount rangefinder with Voigtlander 15-35 Zoom Finder and Voigtlander 15/4.5 M mount super wide angle lens. Notice the finder is set at 15 in the 1.5x scale -- the format size for the RD1
| | |
| --- | --- |
| Leica M8/8.2 / M43 | 12mm to 25mm |
| Full Frame | 15mm to 35mm |
| NEX/ RD1 | 12mm to 21mm |