Description
Voigtlander 50/1.1 Nokton Leica M mount lens

USED MINT- lens, Mint glass, slight lens barrel wear
boxed with standard lens hood and lens caps

For ALL Leica M mount cameras and ALL mirrorless digital cameras via the appropriate adapter

52mm filters, rangefinder coupled focusing on Leica M mount cameras
the best selling super fast 50mm Leica M mount lens of all time
---


Tom Abrahamsson's take on the new 50/1.1!

"The Nokton 50 1.1 is a better lens than the 50/1 Noctilux"

Indeed, there is a 50mm f1.1 from Cosina. I did shoot with it in March when we were in Japan. Of course, i had to keep quiet about it, which is not easy!

It is a very sweet lens, slightly smaller than an older style Noctilux, 58mm filter thread. Weight seemed to be similar, or slightly lighter. The prototype looked a bit like a Nokton 50f1.5 on steroids. Similar knurling on the focus and it "sat" well in the hand when on the camera. There were two versions of the hood. One was a smallish, thread mount one, slightly flared (minimum intrusion into the finder of the M2 and ZM) and the other one was a larger diameter one with a clamp-on screw.

Image quality was very good. For obvious reasons I shot most everything at f1.1 or there-abouts. The corner fall off is less than on the Noctilux f1.0- looks to be around 1,0-1.5 stops. Less of peering through a tunnel as the Noctilux tended to create. Sharpness at f1.1 is very good - I did not do "resolution" tests - but looking at the negatives - I would have no problem blowing them up to 11x14 or 16x20 without having the lens being the limiting factor. I did shoot most of the pictures with Acros 100 and developed them in Beutler. This is a combination that takes "no prisoners" in terms of sharpness and contrast.

What I liked is the fact that a/ a bit more compact than the Noctilux and b/ apart from being very good at f1.1 - the quality when stopped down held up and it is nice and sharp throughout the whole f-stop range. This means to me that it could do duty as a "standard" 50mm without loosing image quality in bright light and on the "dark" side.

When you are looking at superfast lenses, you are in another field. ANY aberration in the optical field is magnified (see Noctilux!). If you want no distorsion, no vignetting etc - get a Heliar 50f3.5 and a tripod. The lens I was using was a prototype (I think it was #2, but there was no markings on it). And it was a f1.1 - thats what I shot it at! Why have it if it is not used at that speed.

I like it for several reasons. A/It is affordable, B/ it is a modern lens with 35 years of evolution since the Noctilux when it come to glass composition and coatings, C/ It is compact enough that it can substitute for a regular 50 with the added speed when needed.

I have had 6 50/1 Noctiluxes over the decades, they can do good work, but they are afflicted with various problems, massive edge fall off, very low contrast at f1, not particularly good at medium f-stops. All of this should be put into context of Dr Mandler designing it close to 40 years ago. The Nokton 50 1.1 is a better lens than the 50/1 Noctilux and so is the Hexanon 50/60f1.2 - as they should be with the technology advances over the decades.

If you like what the Noctilux does, by all means get one or keep yours, but I would prefer a modern lens. So, it is "cheap" compared to the Noctilux - a decade ago you could pick up Nocti's for sub $1000 because nobody wanted them. Hype pushed the price initially and the stratospheric raise with the 50f0.95 also did it. I have seen very little stuff done with that lens so I have no opinions about it - but I certainly hope it will be better in some aspects than the Nokton f1.1 - probably not enough for me to consider it though. I rather have $8800 in my pocket and the Nokton!!!!!!

I just put up 18 shots done with the Nokton 50mm f1.1 on our Flickr site. Use the tag "Voigtlander Nokton 50mm f1.1" and they should show up. These are large enough files that if you take them up to "original" size you can see details. I tried to pick somewhat representative images (f1.1, close (1m) and stopped down a bit etc). Sharpness at f1.1 is quite remarkable - very low flare, very little if any distorsion and, yes , it is a damned good lens and at a price that is palatable too.

If you go to https://www.flickr.com/photos/rapidwinder/sets/72157616278125070/ there should be 18-19 shots from the 50/1.1.
Fast Times with Super Fast 50's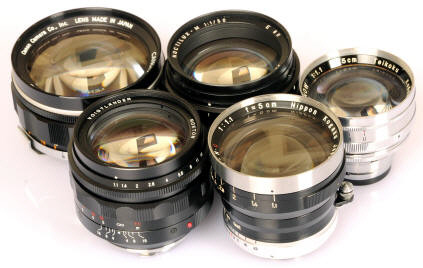 Left to Right: Canon 50/.95 for Canon 7/7s, Leitz Noctilux 50/1 Leica M mount, Voigtlander 50/1.1 Leica M mount, 50/1.1 Nikkor Leica Screw Mount, 50/1.1 Zunow Contax rangefinder mount
Recommended Products
LH-7
50/1.5 M
50 LTM Lens