Description
voigt_SLII_58_AIS
Manual Focus Voigtlander SLII 58/1.4 Nokton
Chipped for Digital SLRs! Outstanding Performance!

58mm filter ring version
Hard to Find New !


58/1.4 = 85/1.4 on smaller format Nikon DSLRs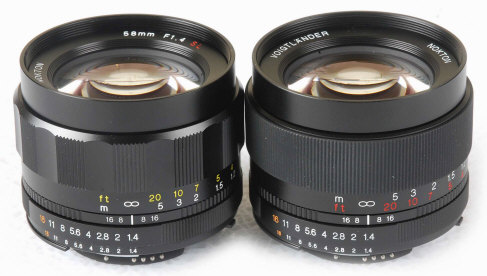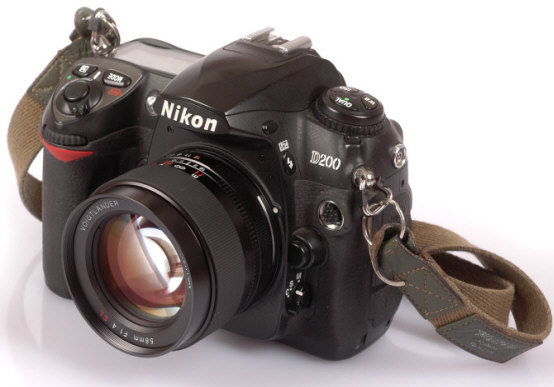 New SL II N on left, Previous SL II version on right: same optics in both
The SLII lens shown above has the same glass and features as the SLIIN for less!
The Nokton 58/1.4 is a revised version of Cosina's 2003 limited edition 58/1.4 Topcor -- a quick sell out with only 1600 available world wide. With its beautiful image quality, it went on to become a highly sought favorite in the Japanese home market.
Nikon DSLRs: manual focus, set aperture ring at f/22 and control f/stop via body

Full Frame Coverage

58/1.4 fast lens, effectively a 85/1.4 on smaller format APS-C digital SLRs, making this an ideal fast DSLR portrait lens

CPUs for metering compatibility with Nikon or Pentax digital SLRs

Nikon AIS mount for film or digital SLRs

Seven elements in six optical groups

9 Aperture blades

Size 320 grams, 64.4mm diameter, 47.5 length (AIS)

Filter size 58mm

Close Up to .45 meter (1:5.8)

Angle of view with film 40 degrees

Smallest aperture f/16

Optional LH-58 screw in metal lens hood

The Nikon version is chipped for digital Nikon SLRs, but is also backwardly compatible with all Nikon film cameras taking manual focus AI or AIS lenses.

1st SL II Version has rubber focusing grip - all metal focusing grip in SL II N for EOS and Nikon AIS