Description
Voigtlander 50/1.5 S Nokton Aspherical for classic Nikon rangefinders
same optics as Voigtlander 50/1.5 Leica mount lenses! Only 700 lenses produced!
adaptable to Sony NEX, M43, and other so called "mirrorless" digital cameras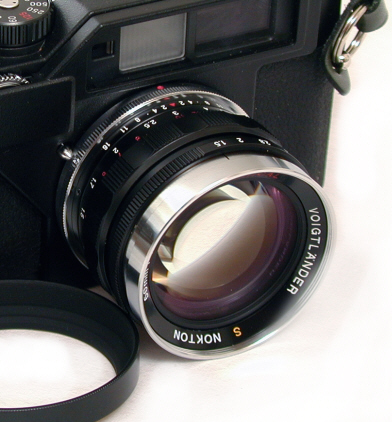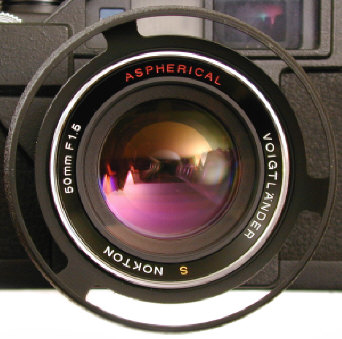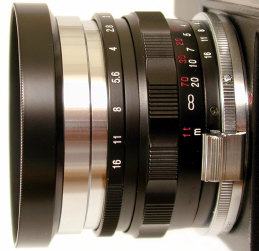 To the left: Voigtlander Bessa R2s with deluxe Voigtlander camera strap, MiniSoftRelease, 50/1.5 Nokton Aspherical with standard lens hood, to the right: the 35/1.2 LH-3 lens hood also fits the 50/1.5 S Nokton
Voigtlander Nokton 50/1.5 S Aspherical, the only Aspherical 50 ever produced in Nikon Rangefinder mount. Introduced May 2003. It is only the 2nd 50 made in external mount for Nikon Rangefinder, the 1st being the legendary 50/1.1 Nikkor. Specs: Filter size 52 mm, f/stops 1.5 to 16, close focus just under 3 feet or .9 meter, 10 aperture blades, multi-coated, very smooth focusing and aperture ring, as well as very high quality machining and finish. Please note this lens is made in Nikon Rangefinder mount.