Description
Voigtlander M43
USA Voigtlander Nokton M43 25mm f/.95

SUPER SPEED Lens!


The Type I 25/.95 has been replaced with the Type II - which is the SAME lens EXCEPT it now has the SAME aperture mechanism as the 17.5/.95 and 42.5/.95 which allow you to choose between using or not using click stops. Accordingly the Type I lenses have been discounted.
It's part of a super fast Voigtlander f/.95 threesome for M43 cameras with the 17.5mm /.95 and 42.5mm /.95. No other lens maker is offering 3 f/.95 lenses for M43! These lenses would be ideal for the new Blackmagic M43 Pocket Cinema camera !
Stephen,

I just wanted to send a quick note of thanks for the Voigtlander 25mm .95 MFT lens. I use this lens exclusively for video (broadcast commercials & promos) and have received nothing but rave reviews from my clients for the image quality. The bokeh is so smooth & buttery. What's surprised me the most is how little it breathes, much less than many of the high-end cine lenses I use on bigger shoots. This lens on a good camera (I use the AF100) offers a fantastic package for any HD production at any price. Looking forward to the 17mm .95!

Thanks,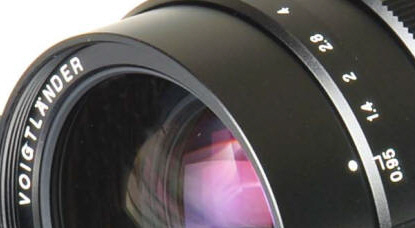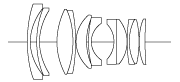 Reviews of the 25/.95 are outstanding! Cosina Voigtlander seems to have hit a nerve with customer demand, as initial orders to the factory far exceeded the first production run. The factory was not been able to meet demand. Please Note we do not provide any kind of repair services or parts for grey market (non USA) Voigtlander products.
Focal length 25 mm, equivalent to 50mm Field of View on 35mm full frame!

f/.95 to f16 aperture range

11 lens elements in 8 optical groups

10 aperture blades

Filter size 52mm

Close focus .17 meter or 1:3.9

Size: length 70mm, diameter 58.4mm, weight 14.5 oz

Lens hood included with lens

TWO lens caps are included: a 52mm lens cap for front filter ring, and a 67mm lens cap which covers the lens hood. Manual focus

Aperture control is by the lens aperture ring, not the camera.

Manual Focus using the lens barrel focusing helical

Manufacturer's ID BA259M

Super Fast Voigtlander M43 Lenses

17mm f/0.95, 25mmf/0.95, 35mm f/1.2 M mount with M43 Adapter, 50mm f/1.1 M mount with M43 Adapter