Product ID : voigt_50_25_chrome_used
Manufacturer: Voigtlander
Description
Voigtlander 50mm f/2.5 Color Skopar Leica Screw Mount
Chrome USED MINT-
boxed, with lens hood, lens caps

long discontinued and sold out

this is a very popular sought after lens due to its outstanding image quality
rugged chrome on brass construction


Leica Screw Mount -- add Screw Mount adapter for perfect compatibility Leica M cameras!
For ANY Leica Screw Mount or Leica M mount camera!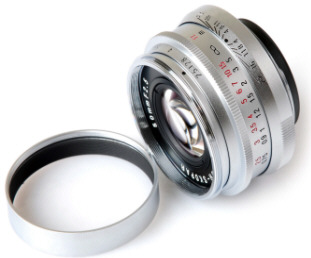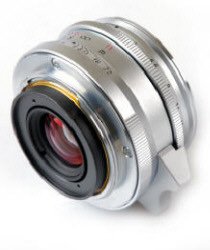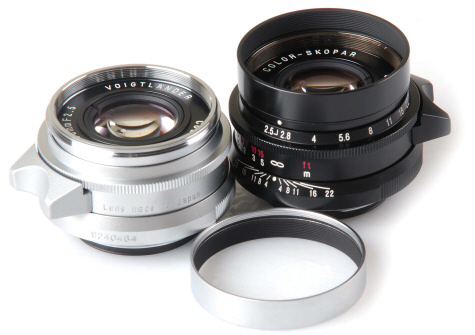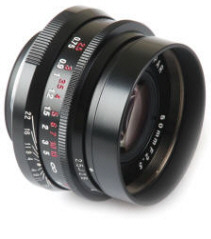 Very compact 50/2.5, 7 elements in 6 groups, 39mm filter size, f/2.5 to 22, silver or black, very convenient large quick focusing lever, heavy duty construction, the optional square LH-2 metal shade will also fit the 35/2.5 C lens. It is very unusual for a modern lens of this speed and focal length to have 7 elements -- instead of the standard six elements. Cosina used the extra lens element to achieve an unusually compact lens size. Introduced with the Bessa R2 in February 2002. This is one of the few CV lenses whose silver version is chrome, not silver anodized. For the Leica M8/8.2 use the M8's 50mm frameline, bought up automatically with the traditional 50/75 screw mount to M adapter. For the Epson RD1 use the Epson's 50mm frameline.
Left to Right 50/1.5, 50/2.5 w/ Square Shade, 50/2.5 w standard Round Shade, 50/3.5 Heliar
Left to Right: 50/2.5 w/ Square Shade, 50/3.5 Heliar, 50/2.5 w/ Round Shade, and 50/1.5
The very compact 50/2.5 shares the optional LH-2 Square hood with the 35/2.5 C