Product ID : voigt_35_2.5P_USED
Description
Voigtlander ColorSkopar 35mm f/2.5 P Type II Leica M

BOXED, WITH LENS CAPS, MINT- SLIGHT BARREL WEAR, MINT GLASS

Check out the Voigtlander 35/2.5 Image Discussion HERE
For ANY Leica M mount camera!

Vented LH-4 Lens Hood

Same Glass as Screw Mount 35/2.5C but now in Leica M mount
optional Metal 35mm Viewfinder - Black or Chrome

Size Comparison: 35/2.5 PII with 40/1.4 Nokton

The 35/2.5 P II Leica M mount lens was introduced in Las Vegas at PMA in February 2004. The 35/2.5 C, 35/2.5 PI, 35/2.5 PII and 35/2.5 SC in Nikon Rangefinder mount all share the same optics. Using 7 elements in 5 groups, 10 aperture blades, weighs in at only 134 grams, 39mm filter size, measuring 55mm wide by 23mm long, with rangefinder coupled focusing as close as .7 meter. Physically the lens and shade are styled much like the Leica pre-aspheric 35/2 Summicron, even down to the focusing tab and aperture controls, which I find extremely easy and comfortable to use. The new snap on 39mm cap will likely prove popular for other lenses as well. This is a very popular, sharp, small 35mm lens.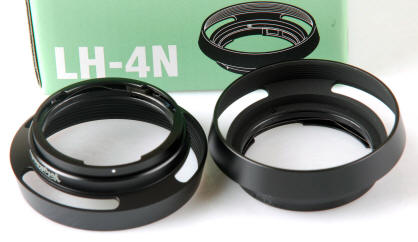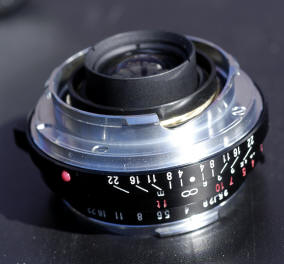 The bayonet on metal LH-4 vented shade is sold separately as it is not included with the lens. The LH-4 will also fit on the 50/2 Heliar (both screw mount and M versions). The shade is very well designed and made, reminding me of a Leica shade. The shade has a white dot which matched up to the small black aperture index on the lens at f/2.5. Mount the shade and the rotate it clockwise. IF the lens is at infinity, you will pick up some resistance at about the unmarked 1.1 meter focusing mark. Continue rotating the shade until the white dot locks at about the .75 meter focusing mark. Once mounted, the shade leads to a bit of confusion as the hood's white dot index is much easier to see than then fine black index mark of the aperture ring. Translation: if you are not watching what you are doing, you may try to set the aperture by the hood's white dot. I cured the problem on my 35/2.5 II by painting over the white dot with drop of red paint, and by adding another white dot on the lens hood, opposite the black aperture index mark.
For all Leica M bodies except the M3, use the built in 35mm frameline, bought up automatically by the lens' M mount.

For the Epson RD1 use the Epson's 35mm frameline.

For the Voigtlander Bessa R, R2, R2A, R2M, R4A, R4M manually set the 35mm frameline.

For the Voigtlander R3A, R3M try shooting the entire 40mm view.

If that does not work for you, like the M3 you have a choice of the accessory 35mm viewfinder, 28/35 minifinder, or 15-35 Zoomfinder.

Adapted to the various NEX, M43 and other "mirrorless" digital cameras, most shooters work with live view, but most cameras will allow you to add accessory viewfinders if you prefer them. Your choice depends upon the crop factor of the camera you are using.