Product ID : voigt_50_1_2___fe
Description
Voigtlander 50mm f/1.2 Nokton Aspherical
Sony E mount

---
The NOKTON 50mm f1.2 Aspherical E-mount is a high-speed manual focus lens optimized for the full frame imaging sensors of Sony mirrorless cameras. Designed by the same lens designers as the 40mm f/1.2 E, this lens has the same great image quality, same beautiful bokeh, same great sharpness.

This lens is a manual focus and manual aperture design, but also features electrical contacts that enable the lens settings at image capture to be included in the Exif information of the image data. The lens is installed with a distance encoder to enable support for 5-axis image stabilization on bodies with this feature, by providing distance to subject information used to compensate for camera shake. Focus peaking while manual focusing is also supported. The aperture ring has click stops in 1/3 steps. The lens also features a click stop switching mechanism that enables the click stops to be turned off when shooting video.

During the middle to late 20th century, when the maximum aperture of fast standard lenses was generally F2 or F1.4, a 50mm lens with F1.2 aperture was favored by professional photographers as a special fast lens. Because of this, even today many photo enthusiasts are still captured by the tradition and charm of this lens. The NOKTON 50mm F1.2 Aspherical E-mount is a newly designed standard lens with today's technology for specifications that bring out the best in a high-speed standard lens. By using two out of eight elements, each with two aspherical surfaces, it realizes a compact size while having a large aperture. With this lens, you can enjoy comfortable handling well-balanced with camera body and gentle, ample bokeh.

FE Lens Group Shot is 21mm f1.4, 40mm f1.2, 50mm f1.2
Main Features

---
Full frame Sony E-mount with electrical contacts

Enhanced high performance utilizing aspherical lens surfaces

Optical design optimized for digital imaging sensors

Extremely solid and durable all-metal barrel

Manual focus for precise focusing

Installed with aperture click stop switching mechanism for video

Minimum focus distance of 45cm

---
Fast Times with Super Fast 50's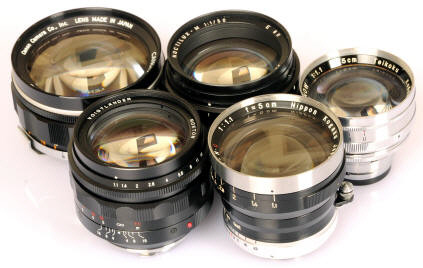 Left to Right: Canon 50/.95 for Canon 7/7s, Leitz Noctilux 50/1 Leica M mount, Voigtlander 50/1.1 Leica M mount, 50/1.1 Nikkor Leica Screw Mount, 50/1.1 Zunow Contax rangefinder mount