Description
Voigtlander Bessa III
USED MINT- USA Voigtlander Bessa III 667
BOXED with Leather Case and Lens Hood
HIGH DEMAND AND HARD TO FIND
discontinued and out of stock at the factory, we occasionally have 667s used


Folding 120/220 Multi Format 6x6 / 6x7 Rangefinder Film Camera -


The Voigtlander Bessa III / III Wide are arguably have a more advanced rangefinder/viewfinder than any Leica ever made, as they not only correct for parallax, but ALSO corrects for FRAME SIZE as the focus distance changes (to give the most accurate framing) and is also adjustable for two different film formats! Please Note: CQ will not provide repair services of any kind for grey market Bessa III cameras.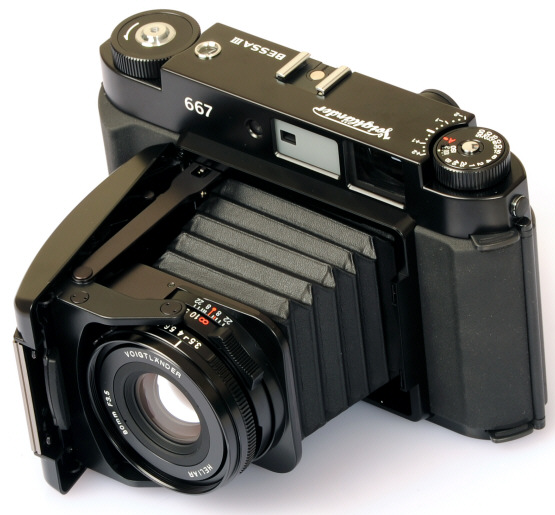 The electronic leaf shutter is incredibly quiet, quieter than the legendary Leica M shutter!
Compact Medium Format 6x6 / 6x7 Folding Rangefinder Film Camera

Extremely bright rangefinder, viewfinder, and bright frame line

Framelines automatically switch between 6x6 and 6x7 with format selection

Automatic parallax compensation in viewfinder as lens focused

Extremely quiet leaf shutter

Superb 80mm/f3.5 six element Voigtlander Heliar lens in four groups

120 or 220 film

Multi-format 6x6cm or 6x7cm pictures, easy to change formats by a switch

Close Focus .9 meter or 3 feet

Filter size 58mm

Manual rangefinder focus

Rangefinder baselength 37mm

Viewfinder magnification .7x

Metered Manual or Aperture Priority AE operation

LED meter readout in viewfinder

Optional diopters for eyepiece

Silicon SPD metering cell located on front plate between "667" and RF/VF

Centerweighted meter

ISO 25 to 3200

Exposure compensation plus / minus 2 f/stops in 1/3 stop increments

Electronic shutter 4 seconds to 1/500th plus B

Seven aperture blades

Flash hot shoe and standard PC flash outlet

Electronic flash X sync at all speeds

Mechanical film counter -- no red window exposure counter!

CR2 Lithium 3 volt battery

Classic standard mechanical cable release

Size 178x109x138mm opened, 178x109x63mm closed

Weight 1000 grams

Optional Lens Hood with filter adapter $79 - the camera can not be closed with the lens hood attached

Optional Soft Case $79

IMPORTANT: When loading or changing batteries, have the camera CLOSED. That shuts off the meter circuit.

Bessa III in carrying case (not for the III Wide)

The Voigtlander Bessa III with 120 film produces 10 6x7 exposures or 12 6x6 exposures, or with 220 film yields 20 shots in 6x7 format or 24 as 6x6.

Lens Hood with Filter Holder

YAY! A film counter, NOT a little red window on the film back!

Notice the selection switch between 6x6 and 6x7, as well as the mask now in place for 6x6

Yes, you can have any lens you want on the Voigtlander Bessa III 667, so long as it's a 80/3.5 Heliar!

Side by side size comparisons of the Bessa III and Bessa III Wide!
Products You May Like