Description
Bessa Long Grip for Voigtlander Bessa Cameras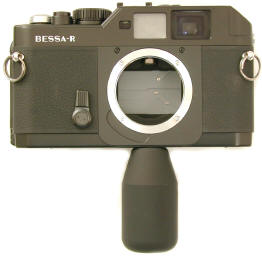 The Bessa Long Grip will fit ALL Voigtlander Cosina Bessa Cameras: L, R, T, R2, R2S, R2C, R2A, R2M, R3A, R3M, R4A, R4M and Bessaflex.

Personally I find it best attached to the Bessa Triggerwinder as shown here, winder and camera not included. Discontinued, but a few still remain in stock.

Probably most interesting is that it will attach to practically ANY camera with a standard 3/8" tripod socket!