Manufacturer: Voigtlander
Product ID : 8688532
Description
NEW USA Voigtlander M43 42.5mm f/.95 SUPER SPEED Lens!   
Voigtlander 42.5mm /f.95 lens with Next Day USA Delivery and premium clear B+W Multi Coated XS-Pro Nano Filter. Orders received by 3:30 PM California time usually shipped the same day. Free Next Day shipping by USPS Express Mail to most lower 48 locations. 
It's part of a super fast Voigtlander f/.95  threesome for M43 cameras with the 25/.95 and 17.5mm /.95. No other lens maker is offering 3 f/.95 lenses for M43! These lenses would be ideal for the new Blackmagic M43 Pocket Cinema camera !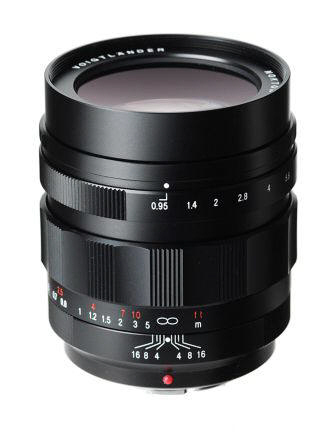 Voigtlander M43 42.5mm f/.95 SUPER SPEED Lens
Equivalent 85mm Portrait Field of View on 35mm format full frame
This is the Third Voigtlander M43 f/.95 lens! 

New "Selective Aperture Control System" which allows disengaging the click stop detents for easier video work

f/.95 to f16 aperture range

11 lens elements in 8 optical groups

10 aperture blades

Filter size 58mm

Close focus .23 meter

Size: length 74.6mm, diameter 64.3mm

Lens hood included with lens

Manufacturer's ID BA425M

Super Fast Voigtlander M43 Lenses

17mm f/0.95,  25mmf/0.95, 35mm f/1.2 M mount with M43 Adapter, 50mm f/1.1 M mount with M43 Adapter
Products You May Like
PREORDER $100 Deposit for the new Aspherical Voigtlander 10.5mm f/.95...

Mint- Voigtlander 42.5/.95 M43 Nokton lens, Mint glass, slight barrel...

$999.00

Sale Price:

$799.00

Voigtlander 17.5/.95 M43 Nokton Aspheric lens WITH PREMIUM B+W Clear...

Voigtlander 25/.95 M43 Type II Nokton lens WITH PREMIUM B+W Clear 007...

Replacement Voigtlander Plastic Clip On Front Lens Caps. 39mm, 43mm, 46mm,...

The Type I 25/.95 has been replaced with the Type II - which is the SAME lens...